I commenced selling my Original muesli to the public in August 2012. Within a fairly short time customers were expressing great interest in a muesli that had a lesser sugar content.
In a "nutshell" Granpa BB's LITE has at least 60% less energy (sugar) than my Original muesli.
There is no added sugar in my Original muesli but there is a significant quantity of real fruit with the inevitable consequence of fructose sugar levels being higher than many customers wanted.
So I set out to create a LITE version of Granpa BB's.  It was intended the LITE product would retain the basic taste and character of my Original muesli but meet the needs of those seeking a very, very healthy breakfast option.
I also wanted my LITE product to meet the criteria of the Heart Foundation and so secure its Two Tick approval.   With this approval achieved customers could be assured that my product met an independently verified high standard of quality.
After much trialling and testing my LITE product was created in 2015.  It became the first and only muesli in New Zealand to receive the Heart Foundation "Two Ticks" of approval.
In a "nutshell" Granpa BB's LITE has at least 60% less energy (sugar) than my Original muesli.
LITE remains a lightly toasted product.  I use a small quantity of sunflower oil complemented with vanilla and cinnamon – but it has no honey nor maple syrup as included in my Original recipe.
It has less fruit than Original, both in quantity and variety but it does have some special fruits giving it a unique flavour.  Those special fruits being goji berries, crystalised ginger and mixed citrus peel.
In the cereals and seeds department it has such top end products as spelt, quinoa, rice flakes, chia seeds, flaxseed fibre and amaranth seeds.  In total there are seven different cereals and six different seeds.
Granpa BB's Guarantee
If for any reason the muesli falls short of your expectations, please return the product to me and I will happily give you a full refund.
– Frank Hogan (Granpa BB)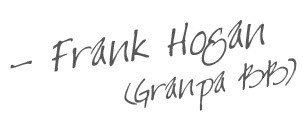 "Absolutely the best muesli I have had.."